Coming to the Well
---
Mentored Journey for Women 50 and Beyond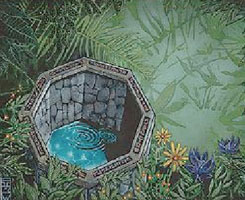 Coming to the Well is a year-long mentored journey. It is a journey of nurturance, support, insightful questing, letting go, opening, strengthening, re-creation and rebirth.
This is the time in our lives when we choose how the rest of our lives will be. Will it be, going downhill, will it be in the maintenance zone, or it will it be "Rebirth into a life we have not yet dared to imagine"?
Our culture says the older we get, the less useful we become and consequently the more worthless we are. However, the Truth is, we can choose to have this be the most worthwhile time of our life, a time of deepening quality, a time of connection, a time of Presence and Purpose, a time when our greatest gifts are given and received.
If you are a woman in a challenging life change; if you feel stumped, stifled or stagnated; if you long to dive deep into your own essence, drink of your own nectar and emerge into all that you have come here to be, you are called to Come to the Well!
Coming to the Well is a year-long program for women 50 and older, who are ready to embrace the next phase of their lives with strength and vitality. When a woman reaches her fifties, it can give rise to deep personal exploration. By this time, many of us have experienced many significant events - divorce, loss of loved ones, illness, menopause, empty nest, plus the physical and psychological effects of aging - and we are ready for change, growth and a fuller understanding of who we are.
But engaging in self-awareness, inner reflection, and behavioral change at this time is difficult to make in isolation. This program will offer you the opportunity to participate in a mentored and facilitated journey. It will teach you how to claim the tools and insights you already possess and use them to navigate the unknown landscape of the future with strength and courage. After completing an in-depth self-assessment, the facilitators will guide women in a holistic process that works with the four bodies - physical, emotional, mental and spiritual. Through this facilitated process, women will draw on their own inner resources to bring strength and vitality to each of their bodies.

As a group we will meet every other month for a weekend retreat over the course of 2009. And, in the alternate months, participants will have a one-on-one coaching session with one of the facilitators via telephone.

Our approach is holistic and each weekend retreat will use innovative, experiential and creative means to help you move further along your path. Be prepared to enter into transformative relationship with yourself as you engage in an on-going, guided process of weaving together a new and joy-filled fabric of self.
Focus Areas
Communicating with your body - opening up the intuitive channels that we were born with, learning to listen to the body and following its inner knowing and guidance

Movement for Life - an exploration of physical movement that will benefit the body on all levels. Yoga, the Five Tibetan Rites, strength training, Rio Abierto (Open River system) and other modalities will be experienced

Nourishing your ageless body - nutrition, energizing your body, food preparation, fasting and inner cleansing, super foods, cooking for health and enjoyment

Releasing negativity - mental and emotional reprogramming, releasing negative patterns, shifting the focus of your thoughts from what isn't working to what is working

Earth based healing - it is an illusion that only other humans can nourish you, all life feeds you. Take the limitless energy from the sun, the moon, earth, plants, animals, and myriad living forms utilizing the healing and uplifting power of nature

Life visioning - using awareness, attention and intention to unveil the next segment of your life journey

Breath work - learning to use the breath to heal, balance and restore the entire being

Healing - with sound, water, the earth, energy balancing, and experiencing grief

Taking time - moving away from rushing, allowing yourself to be present in the moment, being rather than doing

Paired sharing - creating a support system by working in pairs, staying connected throughout the journey

Telling your story, singing your own song - in a different way

Relationships - healing, clarifying and deepening your relationships, working with your unconscious definition of love, discovering the beauty and divinity of your own feminine nature

Mental and Emotional Cleansing - clearing patterns inherited and ingrained through our culture, experiences and our lineage

Deep soul searching and spiritual questing - connecting with Source, consciously taking the reins of life, learning from the past, applying in the present, and redefining the future, the power of giving, realizing the pure joy of existence.
Workshop Program Information
Time and Location: December 11-12, 2010 at Starseed Sanctuary.
For more information click here.

Contact Satyena Ananda, 413-743-0417 or Joanna Ezinga, 518-781-3017 or email Starseed@bcn.net.
Facilitator Bios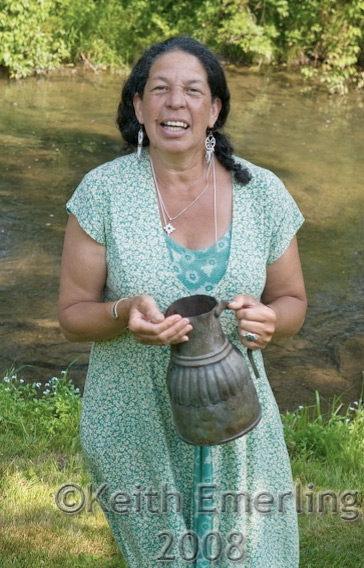 Satyena Ananda
Satyena Ananda is a holistic educator and spiritual counselor with thirty three years background and training in designing and implementing programs for people of all ages in the areas of healing, self-development, holistic living and spiritual alignment. Her work promotes spiritual connection, peace, self-acceptance, self-sovereignty and self-empowerment. She is co-founder of Starseed, and has been directing it as an interfaith healing sanctuary and holistic retreat center for twenty one years. Her current focus is on: feminine spirituality and leadership; earth based healing; conscious creation; intentional community and the creation and stewardship of sacred space. She is currently on the boards of the Women's Interfaith Institute and The Women's House of Peace. Her work has been presented for 19 years at Rowe Conference Center, for the Whole Earth Expo, for Project Aim, and for many private groups and organizations. She is a Certified Polarity Therapist, and has a degree from UMASS in Holistic Education and Spiritual Counseling. She has trained in Body Electronics, Reike, Flower Essence, Aromatherapy and Organic Gardening with medicinal herbs and flowers. In the past ten years her work training has evolved in Earth Based healing with Indigenous teachers.

Her work at Starseed is to facilitate meaningful ways for people to connect with themselves through retreats, workshops, and private sessions. People who come to Starseed are often seeking clarity on issues and difficulties in their lives. Others come because they want to take time for stillness, recovery and transformation. Her calling is to guide the individual or group on a journey that is self-directed. There are several techniques she often utilizes: inner cleaning - using healing nutritional foods, herbs, and fasting when desired: body work - hands on healing, polarity energy balancing and deep emotional release work; spiritual counseling - assisting a person in finding, recognizing and deepening their own inner connection; sacred space - teaching people how to create their own ceremonies and rituals; nature attunement - sharing the many ways of connecting with Mother Earth and the elements of nature for clearer alignment. The purpose of this work is to support spiritual connection, inner peace, self-acceptance, self-sovereignty and self-empowerment.



Joanna Ezinga


Joanna Ezinga has been a long time runner and fitness enthusiast. Three years ago she decided to take her personal commitment to wellness to the next step and returned to school to get a degree in physical fitness and certification as a personal trainer. Her specialty is working with women, particularly those who are new to fitness and she maintains a full schedule as a senior trainer at a local fitness studio.

In 2006, building on 15 years as a triathlete, she spent a week at the Olympic Training Center in Colorado Springs and received certification from USATriathlon as a coach. This led to her launching a women's triathlon training program entitled Give it A Tri. Last year, 9 women completed their first sprint distance triathlon under Coach Jo's instruction. This year, 15 women have signed up for the 12 week training program. Her calling to work with women on finding and reclaiming their strength, grew out of a weekend retreat at Starseed many years ago and continues to grow and find new forms of expression.